SCIRES-IT, e-ISSN 2239-4303, provides a forum for the exchange and sharing of know-how in the areas of Digitalization and Multimedia Technologies and Information & Communication Technology (ICT) in support of Cultural and environmental Heritage (CH) documentation, preservation and fruition. It publishes comprehensive reviews on specific fields, regular research papers and short communications in a timely fashion. The Journal aim is to encourage scientists to publish their experimental results and theoretical work in a comprehensive way. Restrictions on the length of papers is negotiable with the Editors.
More ...
SCIRES-IT is indexed in SCOPUS and in WoS Core Collection (ESCI).
SCIRES-IT is rated in SJR SCImago Journal Rankings.
SCIRES-IT is rated  by ANVUR "CLASS A" Journal for the Area 08 – Architecture and it is ranked as a "Scientific journal"  for Areas 10 -11-13-14.
Announcements
CALL FOR PAPERS_ Vol. 13 N° 2 (2023)

October 7, 2023: Submission for full papers

November 11, 2023: Notification of refereeing

December 9, 2023: Camera ready full papers to printer

 

The Journal SCIRES-IT publishes original works, focused on Digitalization and Multimedia Technologies and Information & Communication Technology (ICT) in support of Cultural and Environmental Heritage (CH) documentation, preservation and fruition.
SCIRES-IT Template is mandatory and the manuscript must be totally formatted according to it.

Posted: 2023-07-14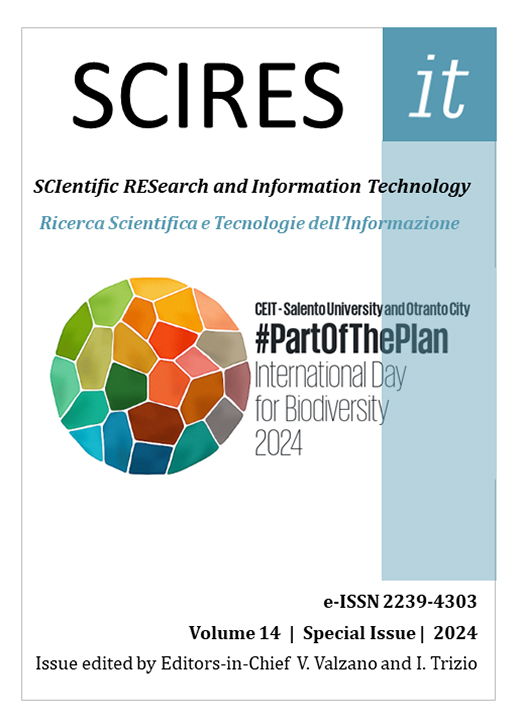 Volume 13, Issue 1 (2023)
Issue edited by Editor-in-Chief V. Valzano
Table of Contents
Editorial
Articles
| | | |
| --- | --- | --- |
| | Cecilia Maria Roberta Luschi, Alessandra Vezzi | 31-40 |
| | | |
| --- | --- | --- |
| | Alfonso Ippolito, Martina Attenni, Rawan Darwa | 53-66 |
| | | |
| --- | --- | --- |
| | Nicolás Gutiérrez-Pérez | 67-82 |
| | | |
| --- | --- | --- |
| | Fabrizio Banfi, Chiara Stanga, Angelo Giuseppe Landi | 83-100 |
| | | |
| --- | --- | --- |
| | Margherita Lasorella, Elena Cantatore | 101-116 |
| | | |
| --- | --- | --- |
| | Fabio Bianconi, Marco Filippucci, Marco Seccaroni, Andrea Rolando, Domenico D'Uva | 117-134 |
| | | |
| --- | --- | --- |
| | Gonzalo Alfonso Beltrán | 153-166 |
| | | |
| --- | --- | --- |
| | Ranjita Asati, Mukesh Raghuwanshi, Kavita Singh | 167-180 |